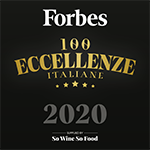 01/01/2020
FORBES 100 COMPANIES OF EXCELLENCE FOR 2020
Forbes Italia recognises one hundred Italian companies of excellence each year, with the invaluable help of So Wine So Food.
Our promotion of estate coffee and our quality control processes are the reasons identified by Forbes Italia for including us among the Italian companies of excellence for 2020!

PIONEER MEMBER OF SCA (SPECIALTY COFFEE ASSOCIATION OF EUROPE)
SCA, or the Specialty Coffee Association, is the leading industry association, which promotes a culture of quality coffee.
Enrico Meschini was involved in founding the SCA, and Le Piantagioni del Caffè is now recognised as a Pioneer Member!